My, they have been busy. I'm now up to a total of 38 DMCAs, mostly pillows. For the time being I seem to have beaten mine, so now I'm informing other designers. If you ARE a designer with a pirated design, please follow through and get your design removed, we have to stamp this out! I'm sorry if you have been informed by me that your design has been stolen, but I'm only the messenger, and for those of you that really can't be bothered, you're making it worse for the rest of us. One of my latest appropriated designs was this, and it's really annoying because I spent an awful lot of post processing time on this one! A charolais calf in a field with the herd in the background - this is the real one, the other has gone.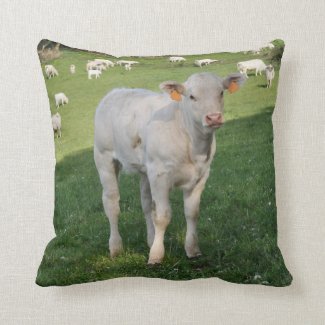 The seller of my stolen design sent me a lovely email:
This is Happy Shops in Amazon, we received a notification about infringe your intellectual property rights. We're really sorry for that, we'll delete the item at once that is relevant with yours (B011OCJFUI ) In fact, we have no idea that the item is belong to any one's intellectual property rights. We're so innocent, just use that image because it is popular. Hope you could understand, and we promise we will not sell that again, and if possible, please inform all the designs that belong to you, we'll never infringe yours again in the future. Could you please kindly email to Amazon to withdraw the complaint through (notice@amazon.com)? Thank you in advance! Christmas is coming, Hope you help to me kindly Looking forward to hearing from you. Merry Christmas!!
To which I of course replied:
Dear Happy Shops Sorry, but no. You have an awful lot of other people's designs in your shop, and I will also be letting these designers know. This has got to stop, Amazon is riddled with copyright theft. I'm sure you can all find enough images elsewhere without stealing them from Zazzle, RedBubble and Society6, and it's YOU who should be taking care that they're not stolen. You have all been taking money out of our pockets. But have a Merry Christmas too!